Clearcut is a design-build remodel company specializing in custom kitchen and bathroom renovations. As a local, family owned and operated business, we proudly serve Raleigh, Durham, Wake Forest, and surrounding areas.
Your home's kitchen and bathroom design should be an extension of your personality; reflect your style and life.  Therefore, as design specialists, we are passionate about crafting a unique, custom functional space.  Our design intensity,  construction knowledge, and renovation background allow us to plan, establish a budget, and problem solve as needed to ensure a beautiful kitchen or bath for you.  (Click
here
to read our blog post Whose House Is It Anyway).  As a result, we complete your kitchen or bathroom with a pleasurable experience and a designer outcome. 
Our company began in 2002 focusing on decks, screened porches, and exterior projects.  Over time, we discovered our passion and niche lies within the art of custom, luxury kitchen and bathroom remodels.  With that revelation, we decided to streamline our company focus.  We transform the most important rooms in your home into unique, functional spaces that you can cherish.   Together, we can make your kitchen and bathroom add a sense of peace and functionality in an otherwise chaotic and busy life.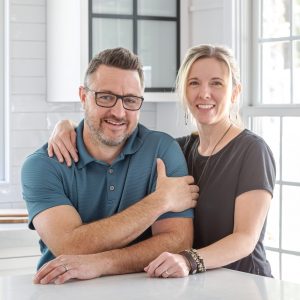 Richard Ryder
Designer/ Builder
Spend 5 minutes with Richard in your kitchen or bathroom and you will quickly notice his meticulous attention to detail and keen perception of the space. Richard is able to see beyond what is in front of him and visualize a luxurious, functional room. With that said, he firmly believes that the desire to design and build was given to him at a very young age. Among the shade trees and barns of his grandparent's farmhouse, he would pace and design buildings in his mind. While at that time they were tree-houses and clubs, he is still amazed looking back at how close his overall understanding of the design build process was. Many years later, his enthusiasm for design and entrepreneur spirit lead him to start his own business.
Clearcut: Custom kitchen & bathroom design-build
Monica Ryder
Construction Office Manager
Monica's part in Clearcut as the construction office manager is an important reason for the success of the company. While her primary role is finance and office management, she still serves Richard in planning the direction of the company and striving for future growth. In addition, she lends a knowledgeable and guiding ear to Richard as he bounces around design ideas and concepts.
Clearcut: Custom kitchen & bathroom design-build