Texture Solves Everything

Are you thinking about remodeling your home?  Or perhaps you are in the middle of a project right now? If so, this post might be crucial for making sure you love the end result.  A problem I see in a lot of homes is the lack of interest and texture in a space. Have you ever walked into a brand new build and thought, "This looks nice and new, but the design is quite plain"?   For example, in a kitchen there may be an all new backsplash, appliances, cabinets, paint colors, countertops, etc., and it would still look rather dull and one dimensional. This is a common problem in a lot of homes. A homeowner will often play it safe and go with basic colors and finishes, and in the end they do not love the final result.  But how do you make a home look unique? Let's address that.
We are in the middle of a new bathroom remodel for a client, and the one thing this space will not lack is texture and interest. I think by the end of this project it will be quite special! The homeowner wanted to have white cabinets and tile. Beautiful, right? It's simple and classic. But as beautiful as that is, how stark would the design be in the end? To create interest in the space, we decided to build a stunning linen cabinet that spanned the length of the wall. It was finished in a black matte stain to give high contrast and depth to the space. Still, this was not enough visual interest.  So, how do we make this bathroom look unique as well as any other kitchen or bathroom we do?  Let's take a look at several ways we do this.
Tile:
Who doesn't love beautiful, white subway tile? It's clean and classic, but sometimes it can be one dimensional and kind of plain. We needed to have some more interest in this room.  First off, we chose a textured tile and decided to create a herringbone pattern. This will go across an entire wall and add some amazing depth to this space. I cannot wait to see the final product!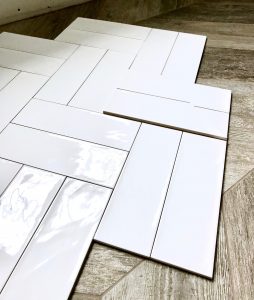 Beams:
Ok we've talked about tile, but what's another way we can add texture and interest in a space? A great answer…. add beams. Look at the photo below.  Now imagine this space without them. It would be quite cold and bare, wouldn't it? By using the charcoal gray wall of cabinets and the warm wooden beams above we totally transformed this space! It made this kitchen more visually interesting.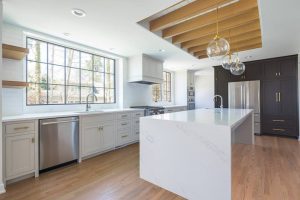 Now, maybe you don't necessarily like the wooden beams, or maybe there is already a lot going on in your space. This was definitely the case in the kitchen below. We added a beautiful, gray tile in a herringbone pattern and painted the island a charcoal gray which created stunning texture and interest. But, we wanted more! We added beams to the ceiling.  However, instead of staining them, we painted them white. This added a subtle hint of texture without taking away from the rest of the room.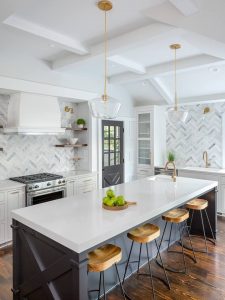 Accent Walls:
Oh how we all love a beautiful accent wall! Like I mentioned earlier, adding a stained wood element (like beams) really creates great texture and warms up a space. In the kitchen above we see a great example of this, but instead, by using an accent wall. We added the natural wood to create warmth and texture to this pretty cool-toned kitchen.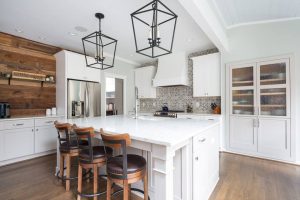 Now, you might be thinking, "I really don't like the natural wood wall." That's ok, for you might like more of a modern or contemporary design! We can still give you texture and interest in your space without using a stained wood wall. If you look in the example below, we added white shiplap to this space. We wanted this room to feel very bright and airy because the couple wanted a modern design.  A modern design does not mean we will have to suffer with a lack of texture and interest. Using the shiplap and even using a smaller element like these wicker baskets, creates visual interest to this otherwise simple room.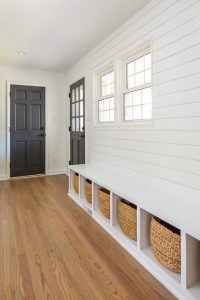 We so often feel that to create a unique design in our home it has to be complicated and expensive, but it doesn't have to be! It can be simple little things like adding tile with a beautiful design, wooden beams to warm up the room, or accent walls to create more texture. It's important for you to love your home. This is where a lot of memories are made, and we want this setting to reflect who you are! So just remember, texture solves everything!
"Keep the end in mind!" Colossians 3:1
-Clearcut and Co.
https://clearcutandco.com/wp-content/uploads/2019/03/unnamed-7.jpg
3578
3024
Hannah Faison
/wp-content/uploads/2017/06/clearcut_final_web.png
Hannah Faison
2019-03-02 01:45:49
2019-03-12 00:52:36
Texture Solves Everything